How is a Thangka created?
In this studio, our primary artist, who works virtually exclusively for us, applies the undercoat consisting of a mixture of chalk and glue to the canvas by hand. Other Thangka workshops have turned to mainly using industrially pre-primed canvas.

This photo shows how the canvas, after receiving its base coat followed by a second coating of bone glue, is polished and smoothed by hand with a stone to attain a perfectly smooth, featureless painting surface. Through this process the canvas becomes quite rigid, thereby providing perfect conditions to evoke very finest artistic detail and over-all superior painting quality.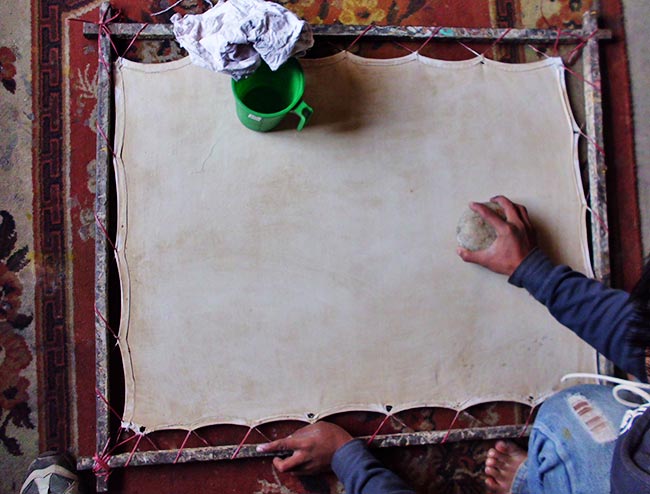 Using a different Thangka, we see how, after mounting, the complete basic pattern of the respective theme is applied to the canvas.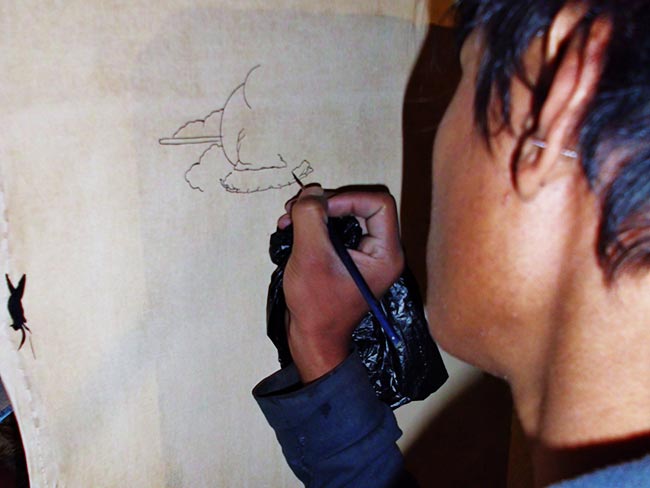 The following picture shows the steps in creating a gold-based Thangka, such as our No PH 9, the "Holy Mount Kailash". To achieve more intensive colour, yet another prime coat, in ochre, is applied, followed by a coat of pure gold. The so-called Thangka painting gold is traditionally produced by members of the Newar people in Nepal. 24-karat gold is ground to finest powder and mixed with bone glue and water in proportions suitable for direct use in painting. Thus, the Thangka gold is not gold leaf at all! Silver can be processed and used in the same way: Mount Kailash and the surrounding peaks in our completed Thangka were not painted with white paint, rather with precious silver.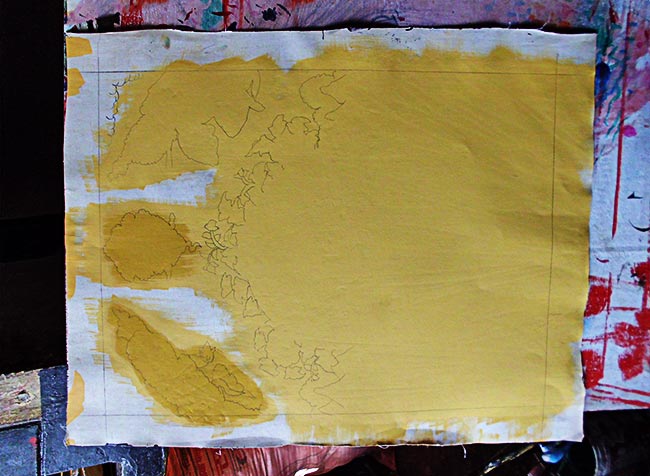 Here, the nearly completed piece has been removed from the wooden frame. Now only the very finest finishing touches remain to be added, such as compacting the gold and giving Mount Kailash its silver mantle.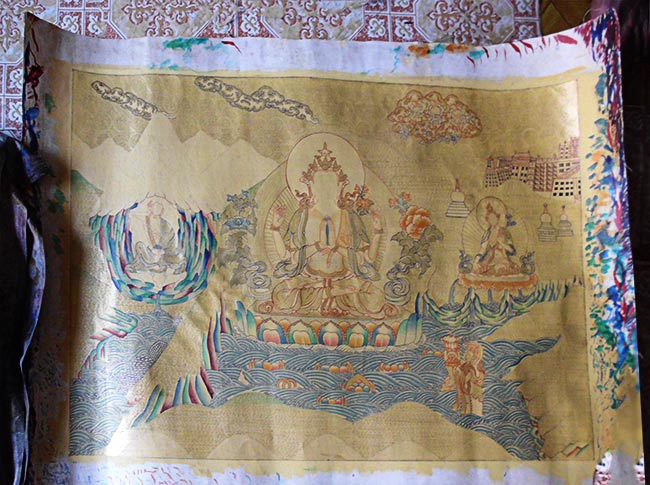 K. Lama regarded his already half-finished thangka proudly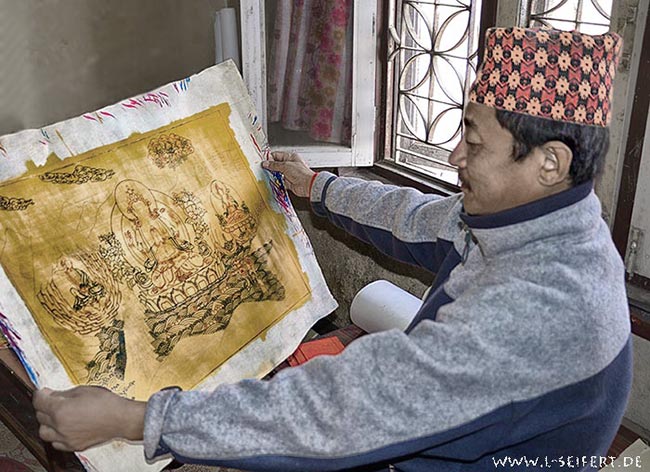 Mount Kailash
along with the peaks behind it has been graced with silver.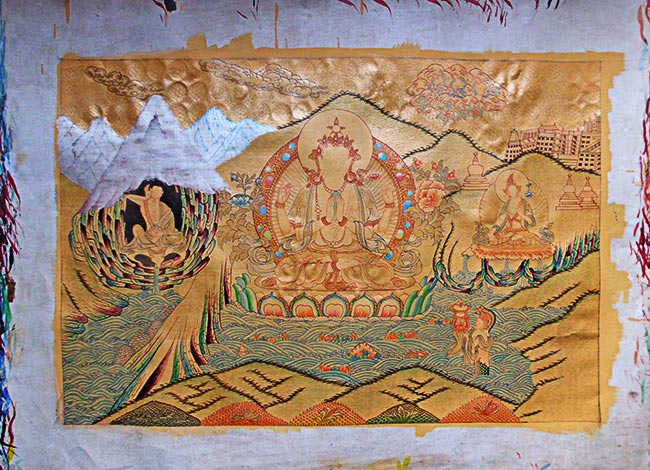 The Mount Kailash Thangka, including the black margin (which can also facilitate the fastening of a traditional brocade frame), is now complete. Only the background gold must be compacted in the places where it is later intended to exhibit a sheen.
Here we see an old ballpoint pen casing into which a specially cut agate has been fitted. The back of this semi-precious stone is slightly concave and can be used to compact gold over extensive areas of the Thangka, while the blunt point is used to lineally compact gold, thus creating a shiny effect.

In this way, through partial compaction of the gold or refraining from compaction, nearly three-dimensional effects can be achieved. The glorious sheen of gold artistically treated in this way richly rewards the beholder or meditator with a Thangka possessed of an extraordinarily aesthetic aura.

Our artist, K. Lama, and his studio while painting another gold-based Thangka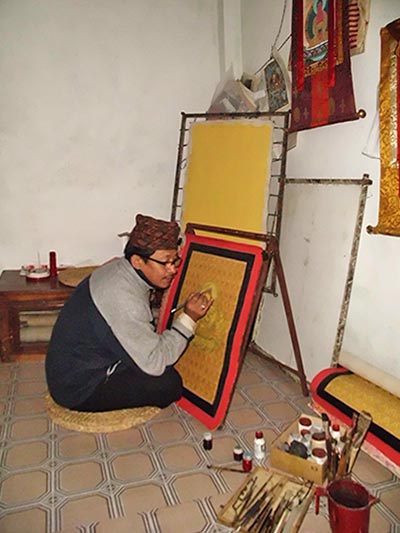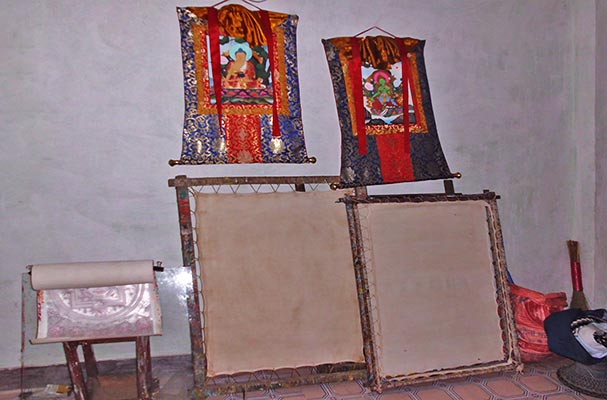 You can click on the link below to see the finished piece at our website, although, due to the need to avoid excessive glare in the photo, a true representation of the incomparable golden sheen can only be imperfectly reproduced (for instance in the center of the depiction of Chenrezig) Thangka Kailash
Your Snow Lion-Team
Gallery Tibet